Capterra, the free directory service for software selection, in a recently published analysis* of project management software vendors, mentioned that there are more than 680 project management software products in the market.These software products might offer free trials or basic features free for small businesses with less than 5 employees, but for other medium-sized or large business organizations, they have different paid plans.
Since most of the software products are now available on the 'Cloud', the geographical proximity of the vendor is not necessarily an important consideration.
If you browse the Internet for the phrase "project management software", you might find many more companies offering a variety of software products for managing projects. There are ERP (enterprise resource planning) software products like SAP or Oracle, which also say that they are project management products. You will realize that the functionality offered under the category of 'project management software' varies a lot. Many software vendors focus on one or more than one feature of project management.
Enterprise Resource Management or Project management are broad umbrella terms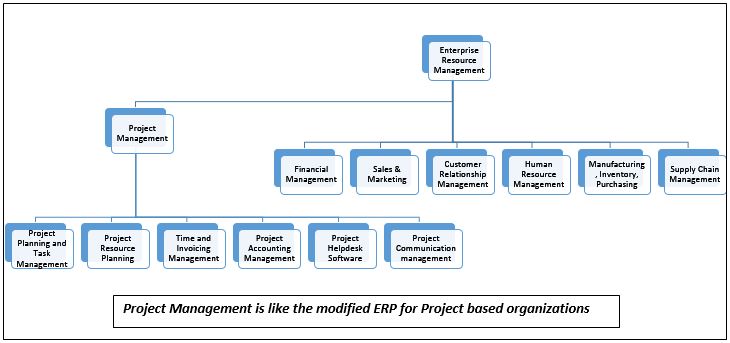 Usually, project management software vendors offer a mix of functionalities. Some products are mainly used for specific functionality that they offer. For example, Microsoft Project Planner for project task planning, JIRA as a project helpdesk, Freshdesk as a customer helpdesk, Wrike for Project scheduling and document sharing, Trello as a tool for collaboration, etc.
But some vendors integrate all core project management processes that are critical to the successful project delivery and pack them together as one single product, for example, Whizible project management suite or Zoho Projects. Well-established ERP companies like SAP and Oracle have also come up with products focused on project management.
Searching for the right vendor for project management software can become quite a confusing task for a manager especially with no prior experience.
So first talk to your internal project teams, understand their requirements and then scan the market for available software products
Question 1- For your internal project team
Why do we need project management software? What are our pain points?
Typical problems or pain points in a project-based business environment could be
Delayed project completion, which could be due to:

Lack of realistic project planning
Frequent revisions in the project scope or
Non-availability of resources to do the job
Delays in invoicing affecting project collections and profitability, due to:

Lack of a timekeeping tool to record billed and unbilled project activities
The absence of official channels of communication within a project team leading to lack of clarity in the roles of the project team members
Customer dissatisfaction due to inefficient issue resolution system
Once you identify your pain points and the causes behind them, you will know which functionalities in the project management software product are critical for your business success.
Once you have shortlisted the project management functionalities your business needs, the task is to find out the possible alternatives and generate a list of at least 5 vendors after comparing the product features on their websites.
A further probe is necessary to ensure that the software and the vendor selected is a perfect fit for your project needs. These questions will help you zero down on the right vendor for your organization
Question 2
Ask the shortlisted software vendors if they can customize their project management software to reflect your business processes and the cost and time required to do so?
Good, robust software generally allows the expert software developers the flexibility to customize it to match your business requirements. The customized roll out using the same processes that your team is familiar with, will reduce the training needs of your project team members and facilitate faster implementation. This will also ensure ease of use.
It may happen sometimes, that the standard processes used by the project management product vendor are backed up by AI or artificial intelligence and might prove to be better than what your project management office is using currently. In such a situation, it might be a good idea to adopt the standard software and train your project teams on the usage. This might boost your project profitability.
Question 3
Will they assign a SPOC (single point of contact) for your organization?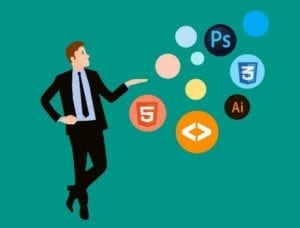 SPOC is that one 'Go to' person who takes care of everything that you need from your chosen project management software implementation vendor. Right from any complaints about the customer service team on not fixing any bug in time, to training your new recruit, to service your request for new functionality to be added to your licensed version of the software, the SPOC is your guide and manager. Maintaining a smooth two-way communication channel ensures the success of implementation of the enterprise software.
Question 4
In case you are planning a business expansion in the near future, your project management software should also be scalable and that too at a competitive price point.
Is their product scalable? Will they be able to add new licenses without disturbing the speed or the backend algorithms of the software and whether they will offer discounts for additional licenses?
Question 5
The final and very important question that you need to ask your software vendor is whether their data protection and security facilities and a disaster recovery plan are in place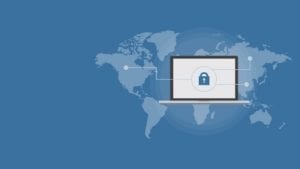 Project management software is enterprise-wide software and has access to all confidential project data and documentation. So it is very critical for the software vendors to have proper security systems and contractual policies for their customers. So any vendor who wants to be a long-term player in the project management business will ensure that these data protection and disaster recovery procedures are implemented.
The project management software vendor, who is measured based on the above-mentioned criteria, will be the ideal partner for your project management teams!
Source -*https://blog.capterra.com/free-open-source-project-management-software/
About the author

Vishwas Mahajan is an entrepreneur and a Guru in Project Management. His company, Whizible has helped a number of project delivery organizations to streamline their Project Management processes and orchestrate organizational performance. His years of consulting experience has been distilled into the Whizible enterprise platform and his company is punching much above its weight in helping some of the largest project enterprises in IT Services, Engineering Services and BFSI domain. Organizations facing challenges in institutionalizing quality process and service delivery frameworks, like PMBoK, CMMi, ISO are the ones that seek his and his company's help the most.
LinkedIn: https://www.linkedin.com/in/vishmahajan/?locale=en_US