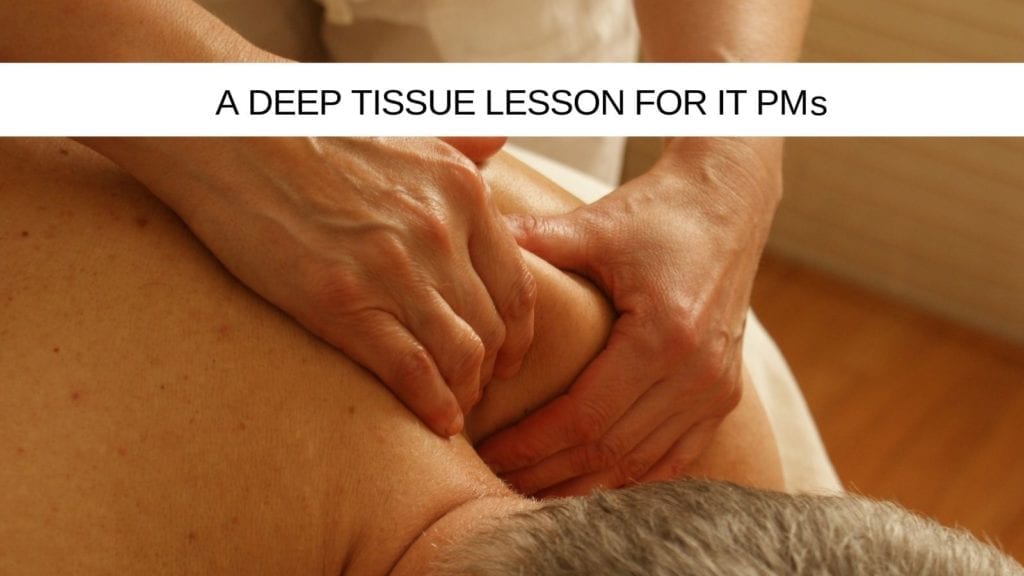 My Project Manager friend, Colette came back from her lunchtime massage today, not as relaxed as she normally does.
"Well that's a good way to lose potential business!" she said.
The story she then told me has lessons for project management teams and as it is also quite funny, I will share it with you.
Colette has been visiting a city centre salon for some time. She goes there for beauty treatments, like nails and waxing and things that, as a man, I don't fully understand and as mentioned, she also enjoys a massage to help with the stresses of Project Management and being a mum.
The salon is based in a hotel and has a gym and swimming pool attached. Colette has considered joining the gym, mainly so that she can swim during her lunch break, but the pool is quite small and Colette wondered whether she'd be able to achieve a sufficient work out in it. With this in mind, last time she had a massage, she asked if she could do a couple of lengths to check it out on her next visit. The staff member said she didn't imagine that this would be a problem.
Anyway, today Colette went for her monthly massage and, before heading into the treatment room, she mentioned the 'trial swim' to the receptionist who said, "Sure, no problem!"
After a thoroughly relaxing 25 minute massage (that cost £35, I'm in the wrong job!) Colette got changed into her swimming costume and was about to climb into the pool when she realised that her towel was in the back of the car. However, she had noticed people collection towels from reception so, dressed in her swimwear, she headed there. The receptionist obligingly handed over a towel and Colette went back to try out the pool.
Only this time, she was chased down the stairs by, it turned out, the manager who asked if Colette was a member, or a hotel guest or there on a spa day. Colette explained she was non of these, she was there for a massage and was just trying the small pool, as previously agreed, to see if it were fit for her purpose before signing up to have a £40 a month direct debited from her account.
The manager then said that as a customer "just there for a massage" (at £35 remember!!) this would not be OK and that they would have to ask her to pay to use the pool.
Colette asked, "How much?"
The manager said that she would be charged the 'special' day rate of £10. (Or considering Colette's intentions – £5 a length!)
Colette explained that she didn't have any money, swimming costumes are not really designed for purses and again explained about her intention to join the gym if the pool were fit for her needs and again said that it had been previously agreed.
The manager insisted that Colette would have to pay, but said that they could refund the £10 from Colette's first monthly subscription, if she joined.
With reserve not normally associated with Colette, she declined the offer, got dressed and went back to work.
Now, the cost of an annual gym membership would have been £480, Colette also had a massage each month – so that's another £420 a year. Add to that the occasional nail and waxing sessions and in the space of ten minutes that manager has probably talked herself out of about £1500 of business a year – because Colette won't be going back!
Plus, Colette is the "Culture Champion" at her firm and had previously asked at the spa about corporate membership deals. She was in the process of compiling a list of interested colleagues. If only half of them had signed up, the gym/pool/salon would have made tens of thousands of pounds. All gone now, for the sake of ten pounds.
There are, as I say, plenty of lessons from this story, for those of us in Project Management, not least that you should never wander into reception dressed in just a swimming costume! Her are just four more!!
1 – Always think Bigger Picutre
The manager of the spa did what a project manager on a large IT Project did recently. By over focusing on compliance and process for a relatively small part of the project, it's easy to take your eye off the long-term plan and potential benefits.
The IT PM ended up delaying several other dependant units of work and ultimately, the project as a whole delivered late because he was over cautious. If he'd used his gut instinct (which was that a software integration has gone well!) they could have moved on and delivered the subsequent work, while still carrying out full tests to confirm his instinct. Instead, he followed process and carried out all testing before signing this particular module off so that the project could proceed. Sometimes, experienced Project Leaders have to trust their instinct (developed over years of experience) … and sometimes spa managers need to see how waiving a £10 fee could result in tens of thousands of pounds worth of business.
2 – Stick to what's been agreed unless it's gonna totally scupper your project and empower staff to make basic calls!
I love it when a team is functioning so well that the project leader can delegate the small stuff. The trouble comes when the project leader then destroys that culture by interfering where it is not needed. As part of a project to improve customer experience last year, a team had to install 15 iPads into a retail shop floor environment. The iPads had been unboxed and the firm's app installed, the staff had been trained on how to get the best out of it. The plan was that when a customer asked for something not in stock, it could easily be ordered in store and delivered to their home the next day.
Two days before the project was to go live it was discovered that, when the rubbish from the accompanying refit was cleared away, 15 iPad boxes complete with 15 iPad chargers had gone to landfill too. A quick-thinking team member ran to the Apple store (in the same shopping centre) and bought replacements using her own debit card. Instead of heaping praise upon her thanking her for saving the day, the project leader was not happy!! There was no requisition not, no order number, the purchasing team had not been consulted, this wasn't in the budget… he reeled off a volley of moans and told her to take the chargers back – this really demotivated the team. It also made the project leader look a bit daft when, because the preferred supplier couldn't fulfil the order in time, the purchasing manager said, "Just run round to the Apple Store and buy some. You can claim it back on expenses."
In the same way that there was no need for the spa manager to interfere with the two lengths swim Colette had agreed, there is often no need for project leaders to sweat the small stuff – unless, as I say, it's going to scupper the project!
3 – How a good experience can turn sour
Colette's massage was all about relieving stress. It worked. What followed totally erased this though!
In IT Projects, it can be very easy to deliver lots of good experiences but have them erased with one bad one. Imagine an IT Project team that accommodates scope creep requests but then delivers the project late or over budget. this actually happens more than you think! The accommodation of lots of little extras feels great for the client, stakeholders and the project team at the time but it is funny how, when faced with a bigger bill or a delayed "go live" day, the joy those extras delivered is soon forgotten.
4 – Not being clear about deliverables, not realistically managing expectations – isn't that (sort of) lying?
In my early days, I remember an IT Project Manager at an IT Services provider whose motto was "The answer is ALWAYS yes". He would agree to all manner of requests from clients (via the sales team) and worry about it delivering later. It was all about getting the business! Often, it worked out, but sometimes it didn't and the account manager would have to go back to the client and explain on behalf of the firm why a project would be late or how much more it was going to cost. One day, an exasperated customer asked, "Why does your company always lie?"
Reputationally, failure to deliver doesn't reflect one the sales team or the IT Project Manager and their team, it reflects on the view that customers have of the business. Your business.
Back to the spa, Colette was told that the receptionist, who was new, was to blame. The manager could not apologise enough. It was the receptionist's lack of training, her inexperience… Colette didn't have a problem with the girl, she had a problem with the spa business, in not being honest and realistically managing expectations, "it" had lied.
The upshot of all of this is that Colette has joined another fitness centre!
And the fitness centre does massages too, so the spa at the hotel can kiss that business goodbye as well.
I do have some sympathy with the spa manager – she probably has her targets and pressures and perhaps thought Colette was trying to blag a free swim! Sometimes we, in IT Project Management, can get lost in our day to day stress and not always make the best judgements. Fortunately, YOU can always call on a Project Management partner who can make the whole thing as relaxing as, well, as relaxing as having a nice massage (and we won't chase you down the stairs in your swimming costume afterwards!)
Find out more about Project Management as a Service from Stoneseed