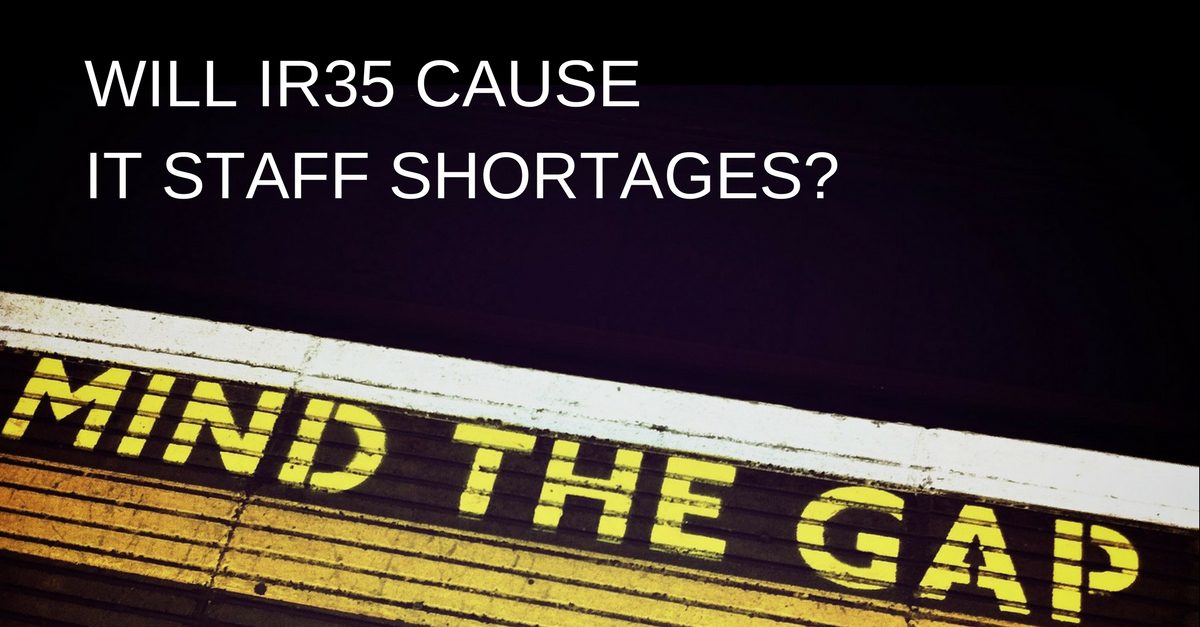 I recently wrote an article for Access Talent's sister company Stoneseed, about the potential impending rollout of IR35 rules to the Private Sector and how it will impact IT Project resourcing. Since then I have had a number of requests for my predictions about what this might all mean for IT recruitment.
The main thing is … don't panic … and have someone in your corner who knows what they're doing!
This is a great opportunity (glass half full) to re-examine your "perm to contractor ratio", assess what your future IT Project talent needs to look like and measure them against your current resources. Experience from the Public Sector suggests that perms may become more scarce, so (whilst still not panicking), now would be a good time to start planning.
IR35 is, perhaps, already having an impact on recruitment.
Demand for IT contractors has fallen by 9% according to figures released by the Association of Professional Staffing Companies (APSCo).
Across all sectors, permanent hires are up by 9% whereas contractor hires have fallen 15%, indeed, the total number of self-employed workers decreased by 82,000 in the three months to November 2017, according to data from the Office for National Statistics (ONS).
All of this is congruent with our observations.
Meanwhile, HMRC's online employment status tools which were designed to give clear guidance = sometimes aren't. Of five private sector contractors I know who recently took the test, three returned an "unknown" outcome. It's far from definitive in some cases, specialist IT roles which are especially nuanced, in particular, it seems! Whether, a contractor can provide a substitute to carry out their work, levels of client supervision, or the amount of control the contractor has over working hours and how the work is carried out are still important measures but there are so many grey areas that I recommend seeking specialist advice to discuss your unique requirements or any concerns that you have.
BUT I was asked for predictions … so, what will happen?
We are already seeing a few trends emerge.
1 – Some Contractor IT Talent Is Entering The 'Job Market'
As mentioned above, demand for IT contractors has fallen by 9%. In real terms, what this means, is that talent we previously had a relationship with through our IT services business Stoneseedmay now be getting in touch via our recruitment firm Access Talent. Some contractors are looking for a 'permanent' gig.
This is mixed news for hirers.
Firstly, more talent to choose from sounds good – and it could be! However, without due care, it also raises the risk of a bad hire. Now is the time to broker a great relationship with a recruiter with a track record of placing the right specialist talent in the right role. Make sure your recruiter will get to know your business and your culture and recommend only 'best fit' talent.
Secondly, you have to be more certain than ever that your vacancy is advertised in the right place. Traditional job boards and more general recruiters may not point this new talent entering the market your way. The more specialist the role, the better the results you'll get from a specialist IT recruiter.
2 – Wage Inflation
In a poll, last summer, almost three quarters (72%) of UK HR directors said that they believe extending IR35 legislation across the Private Sector would be the catalyst for wage inflation, with pay rates increasing by 23% on average. Meanwhile, 16% were even less optimistic forecasting pay hikes of almost a third (30%).
The experience of friends and colleagues in the Public Sector suggests that these fears may not be without foundation although, anecdotally, pay increases seem to have been closer to the 18-20% mark. It is ironic that a measure designed to increase income to the public purse has, in many cases, cost it more.
It is worth considering whether your (perhaps less flexible) private sector budget would stand such rises.
Inevitably, as private sector IR35 rollout gets closer, if perm talent does become more scarce, the laws of supply and demand will dictate the price to be paid by end clients
Employers/Resourcers who have good relationships with specialist recruiters in their field seem more immune to the rises as they have a better selection of specialist talent from which to choose, however, this is immunity is highly dependent upon availability and talent placements are happening fast in this current climate.
3 – Employers Are Acting More Cautiously, Hirers and Contractors Are Dancing Around One Another
Despite all the tools and online resources from HMRC, employers and contractors alike tell me that the rules on what falls inside and outside IR35 are rather fuzzy, subjective and open to interpretation.
Fuzzy enough for contractors to decline taking on some projects, and subjective enough for employers to think twice about taking on a contractor. Rules around liability are not as clear as they could be and are a potential minefield.
The recent news headlines about the fines being imposed in the Public Sector, for example, the judgement against a well know BBC presenter, saddled with a £ £420k tax bill, have been a wake-up call for both employers and contractors.
This has caused hirers to err on the side of caution and when in doubt, conclude that roles fall within IR35 – pushing up demand for perm talent.
4 – Projects Are Missing Targets
Over a glass of wine (or two) this month a colleague and some friends from public sector IT discussed IR35. They are convinced that the projects that they are working on will either be delayed or over budget because of its implementation.
They say it took longer to fill roles because uncertainty around liabilities led to both employers and contractors being reluctant to commit until they were sure of their respective IR35 status.
They're over budget as they've had to renegotiate terms. Compromise arrangements, like a slight increase in day rates to compensate for the talent's increased tax burden, have to be financed from somewhere. Tight budgets don't allow even for modest increases. Many contractors, with a highly prized skill set, have increased their rates significantly, keeping their take-home pay at the same level.
Beyond anecdotal evidence, there are clear hints that the government may not meet some digitisation targets. Unstaffed roles that would previously have been filled by contractors are among the contributing factors to this. Again, it's simply not a luxury that one has in the private sector.
5 – More Last Minute Hires
Industry colleagues report Public Sector employers getting in touch with vacancies that need filling super urgently.
Broadly speaking, the reason for new hires would previously have fallen into two main categories … you needed to replace talent that has left or business growth/increased portfolio/more complex projects meant that you had to increase your headcount.
This is still largely the case. However, whereas before a contractor may have been the go-to choice, diligent employers are now giving measured thought to the implications of such arrangements and eventually concluding that it is safer all round to add to the payroll. All the while, the clock is ticking, the project start date is looming and positions remain unfilled (if not until the last minute certainly later than before).
If this trend were to cross over when IR35 hits the private sector it is not unreasonable to imagine real implications for business returns. It is worth future proofing your business by having your specialist IT recruitment partner on speed dial. Again, choose one who will take time to get to know you and your business so that your next recruitment process hits the ground running.
6 – Fewer Contractor Vacancies Is Not Always Translating Into More Permanent Talent Available
This started as a personal observation but was soon backed up by the experience of contractors who were reporting fewer vacancies and seeking new opportunities – and not always within the industry.
Indeed, the data from APSCo suggests contract vacancies have fallen by as much as 8%.
Could this be as a result of IR35? A balanced view must conclude that it is too soon to come to this conclusion from the data alone. What is interesting though is that while contract vacancies may have fallen by 8%, permanent vacancies are relatively flat only up by 1%.
According to my Public Sector contacts, some roles have been brought in-house by spreading the workload across already employed permanent staff.
Some that have advertised permanent roles have struggled to fill them. Some contractors they expected to migrate to a PAYE engagement have left the industry, one contact reported that a project management contractor he'd used for years has even left the country! This rather extreme one-off case does rather illustrate the unpredictability faced by IT project Resourcers.
7 – Reduced Ability To Be Agile
One of my Public Sector IT Project Manager contacts has a more commercial previous employment history on his CV and wrote this to me.
"I am grateful that I am facing these changes working for a government department where agility, although important, is not the be all and end all. In my past life, the challenges I have faced would have impacted directly on the competitiveness of the business, especially against foreign competition. We would not have been as agile nor as innovative faced with losing the expertise and skills that contractors bring to the table. The success of ** (** redacted for confidentiality) was built on a mobile workforce whose employment was not viable on a permanent hire basis but whose engagement was vital to major change management successes."
For many reasons over the next 24 months, your business needs to be agile. The political landscape and our relationship with Europe is about to change, these are uncertain economic times and advances in technology happen at an increasingly faster pace, competition is more varied and intense than ever.
All of this is happening against a shifting labour market so now would be a good time to future-proof your ability to be agile by nailing down specialist recruitment relationships.
In conclusion, our business operations give us a unique vantage point from which to observe and comment. Access Talent is in regular contact with many influential IT HR leaders who are feeding a constant sense of the mood, we also have a database of specialist IT talent with whom we stay in constant touch. Our sister company Stoneseed provides project resources into both the Public Sector (where the new rules apply) and the Private Sector (where they don't yet), and whilst we favour the use of our own employed resource (where IR35 becomes irrelevant), we also work with a number of Personal Service Companies (where it is highly relevant). All this allows us to speculate with some confidence and authority on what will happen further down the line.
The reason I advise a zero panic approach is that we are still placing our own employed resources and Personal Service Companies into IT Projects through Stoneseed and permanent staff into IT roles through Access Talent. We have, though, noticed an increase in demand for the latter.
There was something of a collective sigh of relief from many in private sector IT when the government did not include an extension to the new IR35 'off payroll' rules in the last budget but don't hold that breath.
The government will consult and draw upon experiences in the public sector and then act and so should we.
While still not panicking, it is worth noting that no-one involved in the resourcing of public sector IT projects has wished that they'd had less time to prepare for IR35.
If we are to learn anything from the Public Sector experience is that it's time to start preparing and looking at your Project Portfolios for 2019, and how they will be resourced.
No-one really knows when this will all happen but we will all have to be ready for when it does … the question is … will you be ready?
Sources
Recruitment international – IR35 tax rules will come to private sector
Response source – latest job data perm placements up as contractor use declines
Government Computing – UK slips to European average in terms of digitising its services
The recruitment grape Vine – IR35 is affecting contractor hiring