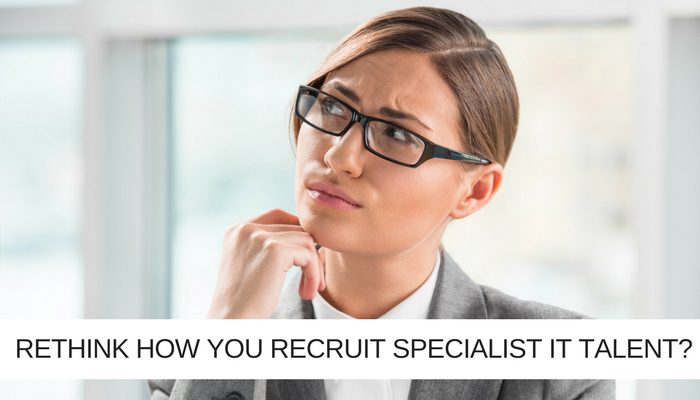 Is now the time to rethink how you recruit specialist IT talent?
Are your candidates getting profiled by people who have never performed that role? Do you feel that all your recruiters appear to be using the same CV databases? Are you forking out upfront fees with no guarantee of success?
Our sister organisation Stoneseed, an IT Programme & Project Management Professional Services business, felt this way. Recruiting quality IT resources for Stoneseed was becoming an incredibly frustrating process – so we had a rethink.
The right partner didn't exist, so we created it – Access Talent. Operating as a client-side partner, serious about aligning talent with business cultures, with specialist peer profiling for each skill set, no upfront fees and an effective search for 'passive' candidates, a rethink really worked for us.
And it is working for others.
Bethan, a HR director and prospective client, had been using the same general recruiter for hiring IT talent that she would call to hire a receptionist, a sales account manager or an operative for their factory floor. It's fair to say she has had mixed results.
She has recently carried out a process she calls 'New Year Revolutions & Evolutions'. I'm writing this at the end of January, a time when folk everywhere resolve to abstain from the booze, exercise more, eat better. What Bethan does each year, is assess current working practices and strategies and look at ways that she can evolve them or replace them with something better.
As part of this, Bethan has carried out a thorough review of her preferred supplier list (PSL) and Recruitment Process Outsouce (RPO) strategies.
The conclusion is that it doesn't pay to fish in the same pool all the time, particularly fishing for specialist IT Talent in the same pool used for more general roles.
Bethan had looked at special resource services, like Access Talent. She has concluded that you may pay a little bit more, but if niche operators deliver specialist resources with greater quality you should enjoy a more expeditious return on your investment.
Effectively, Bethan has done my sales pitch for me.
She is right. In most cases, as IT becomes more strategic and increasingly specialist, the talent that will deliver a real difference is harder to find through general or traditional recruitment channels. Specialist IT recruitment partners understand IT requirements, specific needs and those idiosyncrasies that set great talent above the good.
Bethan is also right that a specialist recruiter may cost a little more but, in most cases, they will deliver a more relevant set of candidates to select from, rather than a bunch of 'close fit' CVs and a hope that something sticks.
Other great innovations, already alluded to, include …
Shared Risk
Access Talent leads the way on this. As an employer, we were getting frustrated at the commercial models offered by recruitment service providers – most involved paying upfront fees and not getting a return until the best part of six months had passed. Shared risk means no upfront fees, instead, you pay a monthly fee over a specified time and if the hire doesn't work out – you stop paying. As the hiring client, it gives you peace of mind that the candidates put forward are really the ones that your recruitment partner thinks will work out well – because they want to be paid the full fee. For the same reason, it encourages the recruiter to always be on their 'A game'.
Specialist Recruiters Are Better Profilers of Specialist Talent
Most IT roles benefit from someone in the process having experience of the job being advertised. As an HR director, Bethan has never worked as an IT Project Manager. Neither have any of the internal interviewing panels she assembles nor, (most crucially) have any of the staff at the general recruitment firm she uses. When you consider it this way, it's maybe not a surprise that specialist roles don't often get adequately filled. The best specialist recruiters recommend candidates who have already been profiled by Subject Matter Experts.
Cultural Alignment
Actual sector and role experience mean your specialist recruitment partner will already know the industry cultural mindset needed. What specialist recruiters worth their salt also do is get to know YOUR specific business culture. They learn what makes you tick and how you operate. Quite right! It's your USP, it's what sets you apart from the firm across town who are offering effectively the same job, conditions and remuneration package. Most general recruiters can't do this because their businesses tend to be geared towards greater volumes of less specialised placements. IT Project Managers, for instance, who work in an environment that is compatible with their own attitudes and work ethic tend to be more effective. When placing specialist IT talent, this extra attention to detail is worth the investment.
Better Sourcing Methods
Does your current recruitment strategy find passive candidates? Sticking a job ad on the HR pages of your website or posting a vacancy on the job boards will get a response – but will it be enough? Specialist recruiters, if they are earning their fee, create a buzz, a genuine interest in your vacancy and your organisation. They attract talent towards your firm – selling it as a great place to work. This means doing the necessary research, they get to know your business, they search social media profiles, fire up search engines (knowing what keywords will work). They develop and maintain relationships with potential candidates, keeping in contact via social media messaging, emails, and good old-fashioned phone calls – even when they're not active.
Understanding the business needs and culture of your organisation enables specialist recruiters to provide you with high calibre, perfect fit applicants. They should have a talent-centric, people focussed approach that goes far beyond just matching skills and experience to a role spec. When you interview a candidate sourced by a specialist, they will have already been vetted and identified as a suitable fit for your company and culture.
Does your current partner know you this well?
Time for a rethink?